Saint of The Day
Lives of the Saints resources:
https://fatima.org/category/saint-of-the-day/
https://www.sacred-texts.com/chr/lots/index.htm
AUGUST

August 11th- St. Tiburtius (Martyr) and St. Susanna (Virgin, Martyr)
AGRESTIUS CHROMATIUS was vicar to the prefect of Rome, and had condemned several martyrs in the reign of Carinus; and in the first years of Diocletian, St. Tranquillinus, being brought before him, assured him that, having been afflicted with the gout, he had recovered a perfect state of health by being baptized. Chromatius was troubled with the same distemper, and being convinced by this miracle of the truth of the Gospel, sent for a priest, and, receiving the Sacrament of Baptism, was freed from that corporal infirmity. Chromatius's son, Tiburtius, was ordained subdeacon, and was soon after betrayed to the persecutors, condemned to many torments, and at length beheaded on the Lavican Road, three miles from Rome, where a church was afterward built. His father, Chromatius, retiring into the country, lived there concealed, in the fervent practice of all Christian virtues.
ST. SUSANNA was nobly born in Rome, and is said to have been niece to Pope Caius. Having made a vow of virginity, she refused to marry, on which account she was impeached as a Christian, and suffered with heroic constancy a cruel martyrdom. St. Susanna suffered towards the beginning of Diocletian's reign, about the year 295.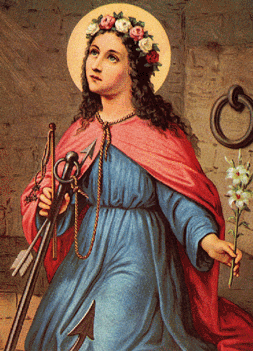 August 11th- St. Philomena (Virgin, Martyr)
Little is known about the life of St. Philomena. However, it is believed she was a Greek princess who became a virgin martyr and died at 13-years-old. Remains of a young lady were discovered in May 1802 at the Catacombs of Priscilla on the Via Salaria Nova with three tiles reading "Peace be to you, Philomena." All that is known about St. Philomena's life comes from a Neapolitan nun's vision. Sister Maria Luisa di Gesu claims St. Philomena came to her and told her she was the daughter of a Greek king who converted to Christianity. When Philomena was 13-years-old, she took a vow of consecrated virginity. After her father took his family to Rome to make peace, Emperor Diocletian fell in love with Philomena. When she refused to marry him, she was subjected to torture. St. Philomena was scourged, drowned with an anchor attached to her, and shot with arrows. Each time she was attacked angels took to her side and healed her through prayer. Finally, the Emperor had Philomena decapitated. According to the story, her death came on a Friday at three in the afternoon, the same as Jesus. Two anchors, three arrows, a palm symbol of martyrdom, and a flower were found on the tiles in her tomb, interpreted as symbols of her martyrdom. The nun's account states Philomena was born on January 10 and was killed on August 10. Devotion for Philomena began to spread once her bones were exhumed and miracles began to occur. Canon Francesco De Lucia of Mugnano del Cardinale received relics of St. Philomena and had them placed in the Church of Our Lady of Grace in Mugnano, Italy. Soon after her relics were enshrined, cancers were cured, wounds were healed and the Miracle of Mugnano, when Venerable Pauline Jaricot was cured of a severe heart issue overnight, were all attributed to St. Philomena. Other Saints began to venerate Philomena and attributing miracles in their lives to the young martyr, including St. John Marie Vianney and St. Peter Louis Marie Chanel. Although controversy sometimes surrounds the truth behind St. Philomena's life and sainthood, many believers all around the world continue to see her as a miraculous saint, canonized in 1837. St. Philomena is the patron saint of infants, babies, and youth. She is often depicted in her youth with a flower crown, a palm of martyrdom, arrows, or an anchor.
---

August 10th- St. Lawrence (Martyr)
ST. LAWRENCE was the chief among the seven deacons of the Roman Church. In the year 258 Pope Sixtus was led out to die, and St. Laurence stood by, weeping that he could not share his fate. "I was your minister," he said, "when you consecrated the blood of Our Lord; why do you leave me behind now that you are about to shed your own?" The holy Pope comforted him with the words, "Do not weep, my son; in three days you will follow me." This prophecy came true. The prefect of the city knew the rich offerings which the Christians put into the hands of the clergy, and he demanded the treasures of the Roman Church from Laurence, their guardian. The Saint promised, at the end of three days, to show him riches exceeding all the wealth of the empire, and set about collecting the poor, the infirm, and the religious who lived by the alms of the faithful. He then bade the prefect "see the treasures of the Church" Christ, whom Laurence had served in his poor, gave him strength in the conflict which ensued. Roasted over a slow fire, he made sport of his pains. "I am done enough," he said, "eat, if you will." At length Christ, the Father of the poor, received him into eternal habitations. God showed by the glory which shone around St. Laurence the value He set upon his love for the poor. Prayers innumerable were granted at his tomb; and he continued from his throne in heaven his charity to those in need, granting them, as St. Augustine says, "the smaller graces which they sought, and leading them to the desire of better gifts"
---

August 9th- St. Romanus (Martyr)
ST. ROMANUS was a soldier in Rome at the time of the martyrdom of St. Laurence. Seeing the joy and constancy with which that holy martyr suffered his torments, he was moved to embrace the Faith, and addressing himself to St. Laurence, was instructed and baptized by him in prison. Confessing aloud what he had done, he was arraigned, condemned, and beheaded the day before the martyrdom of St. Laurence. Thus he arrived at his crown before his guide and master. The body of St. Romanus was first buried on the road to Tibur, but his remains were translated to Lucca, where they are kept under the high altar of a beautiful church which bears his name.
---

August 8th- St. John Mary Vianney (Confessor)
St. John Mary Vianney was born at Dardilly, France, in 1786. He was a farm-hand until his nineteenth year, when he began his studies for the priesthood. His talents were poor, and his progress slow. He was ordained at Grenoble in 1815; he became parish priest of Ars in 1818. That little town was the scene of his marvelous labors until his holy death, August 4, 1859. He was canonized May 31, 1925., by Pope Pious XI. For forty years his food and sleep were insufficient to sustain hum life; during the last ten years of his life he spent from sixteen to eighteen hours a day in the confessional. Enlightened by God, he could read hearts and soften the most hardened sinner. He healed the sick, and cast out devils; like his Master he was openly persecuted, calumniated and hated by wicked men. His little parish attracted thousands of people. Towards the end of his life 158,000 people visited Ars in a single year. He founded an orphanage for girls, trusting its support to Divine Providence, He had the gift of prophecy, and told many souls what the future held in store for them. He is in a special manner the model of all parish priests.

August 8th- SS. Cyriacus, Largus, and Smaragdus (Martyrs)
ST. CYRIACUS was a holy deacon at Rome, under the Popes Marcellinus and Marcellus. In the persecution of Diocletian, in 303, he was crowned with a glorious martyrdom in that city. With him suffered also Largua and Smaragdus, and twenty others. Their bodies were first buried near the place of their execution, on the Salarian Way, but were soon after removed to a farm of the devout Lady Lucina, on the Ostian Road, on the eighth day of August.
---

August 7th- St. Cajetan (Confessor)
ST. EPHREM is the light and glory of the Syriac Church. A mere youth, he entered on the religious life at Nisibis, his native place. Long years of retirement taught him the science of the Saints, and then God called him to Edessa, there to teach what he had learned so well. He defended the Faith against heresies, in books which have made him known as the Prophet of the Syrians. Crowds hung upon his words. Tears used to stop his voice when he preached. He trembled and made his hearers tremble at the thought of God's judgments; but he found in compunction and humility the way to peace, and he rested with unshaken confidence in the mercy of our blessed Lord. "I am setting out," he says, speaking of his own death, "I am setting out on a journey hard and dangerous. Thee, O Son of God, I have taken for my Viaticum. When I am hungry, I will feed on Thee. The infernal fire will not venture near me, for it cannot bear the fragrance of Thy Body and Thy Blood." His hymns won the hearts of the people, drove out the hymns of the Gnostic heretics, and gained for him the title which he bears in the Syriac Liturgy to this day—"the Harp of the Holy Ghost." Passionate as he was by nature, from the time he entered religion no one ever saw him angry. Abounding in labors till the last, he toiled for the suffering poor at Edessa in the famine of 378, and there lay down to die in extreme old age. What was the secret of success so various and so complete? Humility, which made him distrust himself and trust God. Till his death, he wept for the slight sins committed in the thoughtlessness of boyhood. He refused the dignity of the priesthood. "I," he told St. Basil, whom he went to see at the bidding of the Holy Spirit, "I am that Ephrem who has wandered from the path of heaven." Then bursting into tears, he cried out, "O my father, have pity on a sinful wretch, and lead me on the narrow way."
August 7th- St. Donatus (Bishop, Martyr)
Bishop of Arezzo in Tuscany, suffered martyrdom under Emperoe Julian the Apostate, in 361. He was illustrious for his sanctity and for his gift of working miracles. The Church has always remembered him with the highest veneration.
---

August 6th- Transfiguration of Our Lord Jesus Christ
OUR divine Redeemer, being in Galilee about a year before His sacred Passion, took with Him St. Peter and the two sons of Zebedee, Sts. James and John, and led them to a retired mountain. Tradition assures us that this was Mount Thabor, which is exceedingly high and beautiful, and was anciently covered with green trees and shrubs, and was very fruitful. It rises something like a sugar-loaf, in a vast plain in the middle of Galilee. This was the place in which the Man-God appeared in His glory. Whilst Jesus prayed, He suffered that glory which was always due to His sacred humility, and of which, for our sake, He deprived it, to diffuse a ray over His whole body. His face was altered and shone as the sun, and His garments became white as snow. Moses and Elias were seen by the three apostles in His company on this occasion, and were heard discoursing with Him of the death which He was to suffer in Jerusalem. The three apostles were wonderfully delighted with this glorious vision, and St. Peter cried out to Christ, "Lord, it is good for us to be here. Let us make three tents: one for Thee, one for Moses, and one for Elias" Whilst St. Peter was speaking, there came, on a sudden, a bright shining cloud from heaven, an emblem of the presence of God's majesty, and from out of this cloud was heard a voice which said, "This is My beloved Son, in Whom I am well pleased; hear ye Him" The apostles that were present, upon hearing this voice, were seized with a sudden fear, and fell upon the ground; but Jesus, going to them, touched them, and bade them to rise. They immediately did so, and saw no one but Jesus standing in his ordinary state. This vision happened in the night. As they went down the mountain early the next morning, Jesus bade them not to tell any one what they had seen till He should be risen from the dead.
August 6th- SS. Sixtus (Pope, Martyr) and Felicissimus and Agapitus (Martyrs)
A Roman of Greek descent, Sixtus was elected to the papacy in 257. He repaired the rift between the sees of Rome and Carthage that had developed over the issue of baptism and rebaptism. Like his predecessor Stephen, Sixtus believed that baptism is a once-in-a-lifetime event, but unlike Stephen, Sixtus tolerated those who rebaptized. The martyrdom of St. Sixtus was dramatic. Forbidden to hold services, he and his deacons continued to worship in the chapel in the cemetary of Prćtextatus. One day in 258, as the pope preached, soldiers broke into the chapel and beheaded Sixtus. Four of his eight attendants were also beheaded. The authorities executed another two, Felicissimus and Agapitus, the same day. St. Lawrence was martyred three days later. Pope Sixtus II was bishop of Rome from August 31st, 257 until his death on August 6th, 258. He was martyred along with seven deacons, including Lawrence of Rome during the persecution of Christians by Emperor Valerian.
---

August 5th- Dedication of the Church of Our Lady of the Snows
THERE are in Rome three patriarchal churches, in which the Pope officiates on different festivals. These are the Basilics of St. John Lateran, St. Peter's on the Vatican Hill, and St. Mary Major. This last is so called because it is, both in antiquity and dignity, the first church in Rome among those that are dedicated to God in honor of the Virgin Mary. The name of the Liberian Basilic was given it because it was founded in the time of Pope Liberius, in the fourth century; it was consecrated, under the title of the Virgin Mary, by Sixtus III., about the year 435. It is also called St. Mary ad Nives, or at the snow, from a popular tradition that the Mother of God chose this place for a church under her invocation by a miraculous snow that fell upon this spot in summer, and by a vision in which she appeared to a patrician named John, who munificently founded and endowed this church in the pontificate of Liberius. The same Basilic has sometimes been known by the name of St. Mary ad Præsepe, from the holy crib or manger of Bethlehem, in which Christ was laid at His birth. It resembles an ordinary manger, is kept in a case of massive silver, and in it lies an image of a little child, also of silver. On Christmas Day the holy Manger is taken out of the case, and exposed. It is kept in a sumptuous subterraneous chapel in this church.
---

August 4th- St. Dominic (Confessor)
ST. DOMINIC was born in Spain, in 1170. As a student, he sold his books to feed the poor in a famine, and offered himself in ransom for a slave. At the age of twenty-five he became superior of the Canons Regular of Osma, and accompanied his Bishop to France. There his heart was well-nigh broken by the ravages of the Albigenian heresy, and his life was henceforth devoted to the conversion of heretics and the defence of the Faith. For this end he established his threefold religious Order. The convent for nuns was founded first, to rescue young girls from heresy and crime. Then a company of apostolic men gathered around him, and became the Order of Friar Preachers. Lastly came the Tertiaries, persons of both sexes living in the world. God blessed the new Order, and France, Italy, Spain, and England welcomed the Preaching Friars. Our Lady took them under her special protection, and whispered to St. Dominic as he preached. It was in 1208, while St. Dominic knelt in the little chapel of Notre Dame de la Prouille, and implored the great Mother of God to save the Church, that Our Lady appeared to him, gave him the Rosary, and bade him go forth and preach. Beads in hand, he revived the courage of the Catholic troops, led them to victory against overwhelming numbers, and finally crushed the heresy. His nights were spent in prayer; and, though pure as a virgin, thrice before morning broke he scourged himself to blood. His words rescued countless souls, and three times raised the dead to life. At length, on August 6, 1221, at the age of fifty-one, he gave up his soul to God.
---

August 3rd- The Finding of the Body of St. Stephen (The First Martyr)
THE second festival in honor of the holy protomartyr St. Stephen was instituted by the Church on the occasion of the discovery of his precious remains. His body lay long concealed, under the ruins of an old tomb, in a place twenty miles from Jerusalem, called Caphargamala, where stood a church which was served by a venerable priest named Lucian. In the year 415, on Friday, the 3d of December, about nine o'clock at night, Lucian was sleeping in his bed in the baptistery, where he commonly lay in order to guard the sacred vessels of the church. Being half awake, he saw a tall, comely old man of a venerable aspect, who approached him, and, calling him thrice by his name, bid him go to Jerusalem and tell Bishop John to come and open the tombs in which his remains and those of certain other servants of Christ lay, that through their means God might open to many the gates of His clemency. This vision was repeated twice. After the second time, Lucian went to Jerusalem and laid the whole affair before Bishop John, who bade him go and search for the relics, which, the Bishop concluded, would be found under a heap of small stones which lay in a field near his church. In digging up the earth here, three coffins or chests were found. Lucian sent immediately to acquaint Bishop John with this. He was then at the Council of Diospolis, and, taking along with him Eutonius, Bishop of Sebaste, and Eleutherius, Bishop of Jericho, came to the place. Upon the opening of St. Stephen's coffin the earth shook, and there came out of the coffin such an agreeable odor that no one remembered to have ever smelled anything like it. There was a vast multitude of people assembled in that place, among whom were many persons afflicted with divers distempers, of whom seventy-three recovered their health upon the spot. They kissed the holy relics, and then shut them up. The Bishop consented to leave a small portion of them at Caphargamala; the rest were carried in the coffin with singing of psalms and hymns, to the Church of Sion at Jerusalem. The translation was performed on the 26th of December, on which day the Church hath ever since honored the memory of St. Stephen, commemorating the discovery of his relies on the 3d of August probably on account of the dedication of some church in his honor.
---

August 2nd- St. Alphonsus Marie de Liguori (Bishop, Confessor, Doctor of the Church)
Patron Saint of The Society of Saint Alphonsus
ST. ALPHONSUS was born of noble parents, near Naples, in 1696. His spiritual training was intrusted to the Fathers of the Oratory in that city, and from his boyhood Alphonsus was known as a most devout Brother of the Little Oratory. At the early age of sixteen he was made doctor in law, and he threw himself into this career with ardor and success. A mistake, by which he lost an important cause, showed him the vanity of human fame, and determined him to labor only for the glory of glory He entered the priesthood, devoting himself to. the most neglected souls; and to carry on this work he founded later the missionary Congregation of the Most Holy Redeemer. At the age of sixty-six he became Bishop of St. Agatha, and undertook the reform of his diocese with the zeal of a Saint. He made a vow never to lose time, and, though his life was spent in prayer and work, he composed a vast number of books, filled with such science, unction, and wisdom that he has been declared one of the Doctors of the Church. St. Alphonsus wrote his first book at the age of forty-nine, and in his eighty-third year had published about sixty volumes, when his director forbade him to write more. Very many of these books were written in the half-hours snatched from his labors as missionary, religious superior, and Bishop, or in the midst of continual bodily and mental sufferings. With his left hand he would hold a piece of marble against his aching head while his right hand wrote. Yet he counted no time wasted which was spent in charity. He did not refuse to hold a long correspondence with a simple soldier who asked his advice, or to play the harpsichord while he taught his novices to sing spiritual canticles. He lived in evil times, and met with many persecutions and disappointments. For his last seven years he was prevented by constant sickness from offering the Adorable Sacrifice; but he received Holy Communion daily, and his love for Jesus Christ and his trust in Mary's prayers sustained him to the end. He died in 1787, in his ninety-first year.

August 2nd- St. Stephen (Pope, Martyr)
ST. STEPHEN was by birth a Roman, and, being promoted to holy orders, was made archdeacon under the holy Popes St. Cornelius and St. Lucius. The latter? having suffered martyrdom, St. Stephen was chosen to succeed him, and was elected Pope on the 3rd of May, 253. The controversy concerning the rebaptization of heretics gave St. Stephen much trouble. It is the teaching of the Catholic Church, that Baptism given in the name of the three persons of the Blessed Trinity is valid, though it be conferred by a heretic. St. Stephen suffered himself patiently to be traduced as a favorer of heresy in approving heretical baptism, not doubting but those great men who by mistaken zeal were led astray would, when the heat of the dispute had subsided, calmly open their eyes to the truth. Thus by his zeal he preserved the integrity of faith, and by his toleration and forbearance saved many souls. The persecutions becoming violent, he assembled the faithful together in the underground tombs of the martyrs, to celebrate Mass and to exhort them to remain true to Christ. On the 2nd of August, 257, while seated in his pontifical chair, he was beheaded by the satellites of the emperor; and the chair is still shown, stained with his blood.
---

August 1st- St. Peters Chains
HEROD AGRIPPA, King of the Jews, having put to death St. James the Great in the year 44, in order to gain the affection and applause of his people, caused St. Peter, the prince of the sacred college, to be cast into prison. It was his intention to put him publicly to death after Easter. The whole Church at Jerusalem put up its prayers to God for the deliverance of the chief pastor of His whole flock, and God favorably heard them. The king took all precautions possible to prevent the escape of his prisoner. St. Peter lay fast asleep, on the very night before the day intended for his execution, when it pleased God to deliver him out of the hands of his enemies. He was guarded by sixteen soldiers, four of whom always kept sentry in their turns: two in the same dungeon with him, and two at the gate. He was fastened to the ground by two chains, and slept between the two soldiers. In the middle of the night, a bright light shone in the prison, and an angel appeared near him, and, striking him on the side, awaked him out of his sleep, and bade him instantly arise, gird his coat about him, put on his sandals and his cloak, and follow him. The apostle did so, for the chains had dropped off from his hands. Following his guide, he passed after him through the first and second wards of watches, and through the iron gate which led into the city, which opened to them of its own accord. The angel conducted him through one street, then, suddenly disappearing, left him to seek some asylum. The apostle went directly to the house of Mary the mother of John, surnamed Mark, where several disciples were met together, and were sending up their prayers to heaven for his deliverance. As he stood knocking without, a young woman, knowing Peter's voice, ran in and informed the company that he was at the door; they concluded it must be his guardian angel, sent by God upon some extraordinary account, until, being let in, he related to them the whole manner of his miraculous escape; and having enjoined them to give notice there of to St. James and the rest of the brethren, he withdrew to a place of more retirement and security, carrying, wherever he went, the heavenly blessing and life.

August 1st- The Holy Machabees (Martyrs)
The Seven Machabees, brothers, and other Jews, suffered martyrdom for their faith in the second century before Christ, under the tyrant Antiochus Epiphaces, the impious king of Syria. They are the only martyrs who suffered before Christ that are honored with a feast of universal observance. Their relics were place in the church of St. Peter's Chains beneath the new altar on August 1st.
---
JULY
 
July 31st- St. Ignatius of Loyola (Confessor)
ST. IGNATIUS was born at Loyola in Spain, in the year 1491. He served his king as a courtier and a soldier till his thirtieth year. At that age, being laid low by a wound, he received the call of divine grace to leave the world. He embraced poverty and humiliation, that he might become more like to Christ, and won others to join him in the service of God. Prompted by their love for Jesus Christ, Ignatius and his companions made a vow to go to the Holy Land, but war broke out, and prevented the execution of their project. Then they turned to the Vicar of Jesus Christ, and placed themselves under his obedience. This was the beginning of the Society of Jesus. Our Lord promised St. Ignatius that the precious heritage of His Passion should never fail his Society, a heritage of contradictions and persecutions. St. Ignatius was cast into prison at Salamanca, on a suspicion of heresy. To a friend who expressed sympathy with him on account of his imprisonment, he replied, "It is a sign that you have but little love of Christ in your heart, or you would not deem it so hard a fate to be in chains for His sake. I declare to you that all Salamanca does not contain as many fetters, manacles, and chains as I long to wear for the love of Jesus Christ." St. Ignatius went to his crown on the 31st July, 1556.
---
July 30th- Sts. Abdon and Sennen (Martyrs)
Sts. Abdon and Sennen were Persians who, coming to Rome in the Third Centrury, courageously confessed the faith of Christ and were put to death in the persecution of Decius in 250.
---

July 29th- St. Martha (Virgin)
ST. JOHN tells us that "Jesus loved Martha and Mary and Lazarus," and yet but few glimpses are vouchsafed us of them. First, the sisters are set before us with a word. Martha received Jesus into her house, and was busy in outward, loving, lavish service, while Mary sat in silence at the feet she had bathed with her tears. Then, their brother is ill, and they send to Jesus, "Lord, he whom Thou lovest is sick." And in His own time the Lord came, and they go out to meet Him; and then follows that scene of unutterable tenderness and of sublimity unsurpassed: the silent waiting of Mary; Martha strong in faith, but realizing so vividly, with her practical turn of mind, the fact of death, and hesitating: "Canst Thou show Thy wonders in the grave?" And then once again, on the eve of His Passion, we see Jesus at Bethany. Martha, true to her character, is serving; Mary, as at first, pours the precious ointment, in adoration and love, on His divine head. And then we find the tomb of St. Martha, at Tarascon, in Provence. When the storm of persecution came, the family of Bethany, with a few companions, were put into a boat, without oars or sail, and borne to the coast of France. St. Mary's tomb is at St. Baume; St. Lazarus is venerated as the founder of the Church of Marseilles; and the memory of the virtues and labors of St. Martha is still fragrant at Avignon and Tarascon.
---

July 28th- SS. Nazarius and Celsus (Martyrs)
T. NAZARIUS's father was a heathen, and held a considerable post in the Roman army. His mother, Perpetua, was a zealous Christian, and was instructed by St. Peter, or his disciples, in the most perfect maxims of our holy faith. Nazarius embraced it with so much ardor that he copied in his life all the great virtues he saw in his teachers; and out of zeal for the salvation of others, he left Rome, his native city, and preached the Faith in many places with a fervor and disinterestedness becoming a disciple of the apostles. Arriving at Milan, he was there beheaded for the Faith, together with Celsus, a youth whom he carried with him to assist him in his travels. These martyrs suffered soon after Nero had raised the first persecution. Their bodies were buried separately in a garden without the city, where they were discovered and taken up by St. Ambrose, in 395. In the tomb of St. Nazarius, a vial of the Saint's blood was found as fresh and red as if it had been spilt that day. The faithful stained handkerchiefs with some drops, and also formed a certain paste with it, a portion of which St. Ambrose sent to St. Gaudentius, Bishop of Brescia. St. Ambrose conveyed the bodies of the two martyrs into the new church .of the apostles, which he had just built. A woman was delivered of an evil spirit in their presence. St. Ambrose sent some of these relics to St. Paulinus of Nola, who received them with great respect, as a most valuable present, as he testifies.

July 28th- St. Victor I (Pope, Martyr)
Pope Victor I (died 199) was the bishop of Rome in the late second century (189–199 A.D.). He was of Berber origin. The dates of his tenure are uncertain, but one source states he became pope in 189 and gives the year of his death as 199. He was the first bishop of Rome born in the Roman Province of Africa—probably in Leptis Magna (or Tripolitania). He was later considered a saint. His feast day was celebrated on 28 July as "St Victor I, Pope and Martyr".

July 28th- St. Innocent I (Pope, Confessor)
Innocent was born at Albano, Italy. He became Pope, succeeding Pope St. Anastasius I, on December 22, 401. During Innocent's pontificate, he emphasized papal supremacy, commending the bishops of Africa for referring the decrees of their councils at Carthage and Millevis in 416, condemning Pelagianism, to the Pope for confirmation. It was his confirmation of these decrees that caused Augustine to make a remark that was to echo through the centuries: "Roma locuta, causa finitas" (Rome has spoken, the matter is ended). Earlier Innocent had stressed to Bishop St. Victrius and the Spanish bishops that matters of great importance were to be referred to Rome for settlement. Innocent strongly favored clerical celibacy and fought the unjust removal of St. John Chrysostom. He vainly sought help from Emperor Honorius at Revenna when the Goths under Alaric captured and sacked Rome. Innocent died in Rome on March 12. Pope Innocent I (Latin: Innocentius I) was the bishop of Rome from 401 to his death on 12 March 417. He may have been the son of his predecessor, Anastasius I. From the beginning of his papacy, he was seen as the general arbitrator of ecclesiastical disputes in both the East and the West. He confirmed the prerogatives of the Archbishop of Thessalonica, and issued a decretal on disciplinary matters referred to him by the Bishop of Rouen. He defended the exiled John Chrysostom and consulted with the bishops of Africa concerning the Pelagian controversy, confirming the decisions of the African synods. The Catholic priest-scholar Johann Peter Kirsch, 1500 years later, described Innocent as a very energetic and highly gifted individual "...who fulfilled admirably the duties of his office".[2]
---

July 27th- St. Pantaleon (Martyr) 
T. PANTALEON was physician to the Emperor Galerius Maximianus, and a Christian, but, deceived by often hearing the false maxims of the world applauded, was unhappily seduced into an apostasy. But a zealous Christian called Hermolaus awakened his conscience to a sense of his guilt, and brought him again into the fold of the Church. The penitent ardently wished to expiate his crime by martyrdom; and to prepare himself for the conflict, when Diocletian's bloody persecution broke out at Nicomedia, in 303, he distributed all his possessions among the poor. Not long after this action he was taken up, and in his house were also apprehended Hermolaus, Hermippus, and Hermocrates. After suffering many torments, they were all condemned to lose their heads. St. Pantaleon suffered the day after the rest. His relics were translated to Constantinople, and there kept with great honor. The greatest part of them are now shown in the abbey of St. Denys near Paris, but his head is at Lyons.
---

July 26th- St. Anne, Mother of the Blessed Virgin Mary
ST. ANNE was the spouse of St. Joachim, and was chosen by God to be the mother of Mary, His own blessed Mother on earth. They were both of the royal house of David, and their lives were wholly occupied in prayer and good works. One thing only was wanting to their union.—they were childless, and this was held as a bitter misfortune among the Jews. At length, when Anne was an aged woman, Mary was born, the fruit rather of grace than of nature, and the child more of God than of man. With the birth of Mary the aged Anne began a new life: she watched her every movement with reverent tenderness, and felt herself hourly sanctified by the presence of her immaculate child. But she had vowed her daughter to God, to God Mary had consecrated herself again, and to Him Anne gave her back. Mary was three years old when Anne and Joachim led her up the Temple steps, saw her pass by herself into the inner sanctuary, and then saw her no more. Thus was Anne left childless in her lone old age, and deprived of her purest earthly joy just when she needed it most. She humbly adored the Divine Will, and began again to watch and pray, till God called her to unending rest with the Father and the Spouse of Mary in the home of Mary's Child.
---
July 25th- St. James (Apostle)
AMONG the twelve, three were chosen as the familiar companions of our blessed Lord, and of these James was one. He alone, with Peter and John, was admitted to the house of Jairus when the dead maiden was raised to life. They alone were taken up to the high mountain apart, and saw the face of Jesus shining as the sun, and His garments white as snow; and these three alone witnessed the fearful agony in Gethsemane. What was it that won James a place among the favorite three? Faith, burning, impetuous, and outspoken, but which needed. purifying before the "Son of Thunder" could proclaim the gospel of peace. It was James who demanded fire from heaven to consume the inhospitable Samaritans, and who sought the place of honor by Christ in His Kingdom. Yet Our Lord, in rebuking his presumption, prophesied his faithfulness to death. When St. James was brought before King Herod Agrippa, his fearless confession of Jesus crucified so moved the public prosecutor that he declared himself a Christian on the spot. Accused and accuser were hurried off together to execution, and on the road the latter begged pardon of the Saint. The apostle had long since forgiven him, but hesitated for a moment whether publicly to accept as a brother one still unbaptized. God quickly recalled to him the Church's faith, that the blood of martyrdom supplies for every sacrament, and, falling on his companion's neck, he embraced him, with the words, "Peace be with thee!" Together then they knelt for the sword, and together received the crown.
July 25th- St. Christopher (Martyr)
Saint Christopher is one of the most popular Catholic Christian heroes of the Faith. He is a saint, indeed listed as a martyr. He may have also been named Reprobus. He apparently died under the Roman Emperor Decius, in 251 AD. Most Catholics refer to him as Saint Christopher anyway, and his medals and the popular devotions to him are among the most common in Catholic piety. Other than his listing as a martyr, there are no primary sources referring to St. Christopher, only stories and traditions which have been passed down. According to these accounts, St. Christopher was extremely tall, and by some accounts he was even a giant! He was surely a man of significant physical stature. But, more importantly, he was a spiritual giant and a sure model and inspiration for the Christian faithful. Christopher decided one day that he wanted to serve the greatest king he could. He presented himself before his local ruler and entered service, until he noticed the king cross himself at the mention of the devil, revealing that the king believed the Devil to have more power. St. Christopher then decided to serve the Devil. During his search, he encountered a band of thieves, whose leader referred to himself as the Devil. But when this leader avoided a Christian cross out of fear, St. Christopher learned there was someone even more powerful than the Devil. St. Christopher found a hermit who taught him all about Christ, the King of Kings. The hermit suggested that he spend his life in prayer and fasting, a thing which St. Christopher, a large and probably often hungry man found difficult, he objected. The hermit suggested he then find something else that would please Christ. St. Christopher offered to work at a nearby river, and help travelers across. The fording was dangerous and many with less strength people had drowned. The hermit advised St. Christopher this would please Christ. One day, a child approached St. Christopher by the river and asked to be helped across. St. Christopher obliged. However, as he entered midstream, the river rose and the child's weight grew and became extremely heavy. It was only by great exertion that St. Christopher safely delivered the child to the other side. When St. Christopher asked the child why he was so heavy, the child explained that He was the Christ and when St. Christopher carried Him, he also carried the weight of the whole world on his shoulders. The child then vanished. Other legends state that St. Christopher traveled after this experience and evangelized thousands of people. Arriving in Lycia in Asia Minor, and witnessing to Christians there who were being martyred. At that time, St. Christopher was detained and ordered to offer a sacrifice to the emperor. When he refused, it was decided to attempt to persuade him with money and women. Two women were sent to seduce him, but instead he converted them to Christianity. After this, it was decided to have him killed, but various attempts to assassinate him failed. Eventually, he was arrested and beheaded. The name "Christopher" means Christ-bearer, and may allude to the legend of the man carrying the Christ Child across the river. Saint Christopher also did not become popularized in the Church until the 7th century, about three centuries after his supposed death. We know of his popularity because around the 7th century, churches and monasteries began to be named after him. This adds credibility to the supposition that St. Christopher was merely a legendary figure and not a real person. There is also speculation that St. Christopher could have also been confused with St. Menas, an Egyptian saint. Both Christopher and Menas are referred to as "Christ bearers" and are patrons of travelers. St. Christopher is the patron saint of travelers and of children.
---

July 24th- St. Christina (Virgin, Martyr)
ST. CHRISTINA was the daughter of a rich and powerful magistrate named Urbain. Her father, who was deep in the practices of heathenism, had a number of golden idols, which our Saint destroyed, and distributed the pieces among the poor. Infuriated by this act, Urbain became the persecutor of his daughter; he had her whipped with rods and then thrown into a dungeon. Christina remained unshaken in her faith. Her tormentor then had her body torn by iron hooks, and fastened her to a rack beneath which a fire was kindled. But God watched over His servant and turned the flames upon the lookers-on. Christina was next seized, a heavy stone tied about her neck, and she was thrown into the lake of Bolsena, but she was saved by an angel, and outlived her father, who died of spite. Later, this martyr suffered the most inhuman torments under the judge who succeeded her father, and finally was thrown into a burning furnace, where she remained, unhurt, for five days. By the power of Christ she overcame the serpents among which she was thrown; then her tongue was cut out, and afterwards, being pierced with arrows, she gained the martyr's crown at Tyro, a city which formerly stood on an island in the lake of Bolsena in Italy, but was long since swallowed up by the waters. Her relics are now at Palermo in Sicily.
---

July 23rd—St. Apollinaris (Bishop,Martyr)
ST. APOLLINARIS was the first Bishop of Ravenna; he sat twenty years, and was crowned with martyrdom in the reign of Vespasian. He was a disciple of St. Peter, and made by him Bishop of Ravenna. St. Peter Chrysologus, the most illustrious among his successors, has left us a sermon in honor of our Saint, in which he often styles him a martyr; but adds, that though he frequently suffered for the Faith, and ardently desired to lay down his life for Christ, yet God preserved him a long time to His Church, and did not allow the persecutors to take away his life. So he seems to have been a martyr only by the torments he endured for Christ, which he survived at least some days. His body lay first at Classis, four miles from Ravenna, still a kind of suburb to that city, and its seaport till it was choked up by the sands. In the year 549 his relics were removed into a more secret vault in the same church. St. Fortunatus exhorted his friends to make pilgrimages to the tomb, and St. Gregory the Great ordered parties in doubtful suits at law to be sworn before it. Pope Honorius built a church under the name of Apollinaris in Rome, about the year 630. It occurs in all martyrologies, and the high veneration which the Church paid early to his memory is a sufficient testimony of his eminent sanctity and apostolic spirit.

July 23rd- St. Liborius (Bishop, Confessor)
St.Liborius was born of an illustrious family of Gaul (a region in the Roman Empire which extended to the area on the west bank of the Rhine river of the present day Germany), and became Bishop of Le Mans, France. He was a trusty companion to St. Marinus (Martin of Tours). They were both bishops, neighbors in office. St. Liborius was bishop for about 49 years and ordained 217 priests, 186 deacons and 93 sub deacons and other churchmen. He is said to have died on July 23, 397 A.D. with Bishop Martin at his side. Much of the ministerial life of Bishop Liborius covered the second half of the 4th century. By this time, the Roman Empire ended its persecution of Christianity with Emperor Constantine the Great's Edict of Milan in the year 313. Freed from persecution, the Christian faith was now free to grow. However, during this time, foreign tribes roamed the land. There was chaos and misery. Bishop Liborius' Episcopal area had been Christian for some time but heathen Druids were still active and through their mysterious pagan rites were able to influence the people. So, Bishop Liborius built many churches and celebrated the Eucharist with piety and dignity. The well-trained priests in his diocese finally triumphed over the Druids. Nowadays, we would call the works of Bishop Liborius and his clergy at the time as primary evangelization. In the year, 836 A.D., (9th century), the relics of Saint Liborius were brought from Le Mans, France, to Paderborn, Germany. At this time, relics of the saints were well guarded and venerated in churches and dioceses which had them. The willingness of the diocese of Le Mans to handover the relics of St. Liborius to the diocese of Paderborn was a true act of charity. The event forged a long lasting friendship between the sister cities of Le Mans and Paderborn; it has existed for over 1,000 years to this day. St. Liborius is also the Patron Saint of the Paderborn Cathedral Parish in Germany. The city celebrates his feast on July 23 followed by a week of "Liborifest" with procession through the city, Masses and other festivities. Saint Liborius is depicted as a bishop with a peacock. (Legend has it that a peacock led the procession of his remains from Le Mans to Paderborn.) His image may be carrying small stones on a book. He is invoked against colic, fever and gallstones illnesses.
---

July 22nd- St. Mary Magdalen (Penitent)
The earlier life of Mary Magdalen we know only that she was "a woman who was a sinner." From the depth of her degradation she raised her eyes to Jesus with sorrow, hope, and love. All covered with shame, she came In where Jesus was at meat, and knelt behind him. She said not a word, but bathed His feet with her tears, wiped them with the hair of her head, kissed them in humility, and at their touch her sins and her stain were gone. Then she poured on them the costly unguent prepared for far other uses; and His own divine lips rolled away her reproach, spoke her absolution, and bade her go in peace. Thenceforward she ministered to Jesus, sat at His feet, and heard His words. She was one of the family "whom Jesus so loved" that He raised her brother Lazarus from the dead. Once again, on the eve of His Passion, she brought the precious ointment, and, now purified and beloved, poured it on His head, and the whole house of God is still filled with the fragrance of her anointing. She stood with Our Lady and St. John at the foot of the cross, the representative of the many who have had much forgiven. To her first, after His blessed Mother, and through her to His apostles, Our Lord gave the certainty of His resurrection; and to her first He made Himself known, calling her by her name, because she was His. When the faithful were scattered by persecution the family of Bethany found refuge in Provence. The cave in which St. Mary lived for thirty years is still seen, and the chapel on the mountaintop, in which she was caught up daily, like St. Paul, to "visions and revelations of the Lord." When her end drew near she was borne to a spot still marked by a "sacred pillar," where the holy Bishop Maximin awaited her; and when she had received her Lord, she peacefully fell asleep in death.
---

July 21st- St. Praxedes (Virgin)
Praxedes according to her legend was a Roman maiden, the sister of St. Pudentiana, who, when the Emperor Marcus Antoninus was hunting down Christians, sought them out to relieve them with money, care, comfort and every charitable aid. Some she hid in her house, others she encouraged to keep firm in the faith, and of yet others she buried the bodies; and she allowed those who were in prison or toiling in slavery to lack nothing. At last, being unable any longer to bear the cruelties inflicted on Christians, she prayed to God that, if it were expedient for her to die, she might be released from beholding such sufferings. And so on July 21 she was called to the reward of her goodness in Heaven. Her body was laid by the priest Pastor in the tomb of her father, Pudens, and her siser Pudentiana, which was in the cemetery of Priscilla on the Salarian Way. This saint was certainly buried in the catacomb of Priscilla, near to St. Pudentiana. But that she was the sister of that saint, or that either of them was the daughter (as later legends say) of a Roman senator, Pudens, converted by St. Peter, there is no reason to believe. She was at first venerated as a martyr in connection with the ECCLESIA PUDENTIANA, but afterwards a separate church was built in her honour, on the alleged site of her house, to which, when it was rebuilt by Pope St. Paschal I (the present Santa Prassede), her relics were taken.

July 21st- St. Lawrence of Brindisi (Confessor, Doctor of the Church)
Caesare de Rossi was born at Brandisi, kingdom of Naples, on July 22nd. He was educated by the conventual Franciscans there and by his uncle at St. Mark's in Venice. When sixteen, he joined the Capuchins at Verona, taking the name Lawrence. He pursued his higher studies in theology, philosophy, the bible, Greek, Hebrew, and several other languages at the University of Padua. He was ordained and began to preach with great effect in Northern Italy. He became definitor general of his Order in Rome in 1596, a position he was to hold five times, was assigned to conversion work with Jews, and was sent to Germany, with Blessed Benedict of Urbino, to combat Lutheranism. They founded friaries at Prague, Vienna, and Gorizia, which were to develop into the provinces of Bohemia, Austria, and Styria. At the request of Emperor Rudolf II, Lawrence helped raise an army among the German rulers to fight against the Turks, who were threatening to conquer all of Hungary, became its chaplain, and was among the leaders in the Battle of Szekesfehevar in 1601; many attributed the ensuing victory to him. In 1602, he was elected Vicar General of the Capuchins but refused re-election in 1605. He was sent to Spain by the emperor to persuade Philip III to join the Catholic League, and while there, founded a Capuchin house in Madrid. He was then sent as papal nuncio to the court of Maximillian of Bavaria, served as peacemaker in several royal disputes, and in 1618, retired from worldly affairs to the friary at Caserta. He was recalled at the request of the rulers of Naples to go to Spain to intercede with King Philip for them against the Duke of Osuna, Spanish envoy to Naples and convinced the King to recall the Duke to avert an uprising. The trip in the sweltering heat of summer exhausted him, and he died a few days after his meeting with the King at Lisbon on July 22nd. Lawrence wrote a commentary on Genesis and several treatises against Luther, but Lawrence's main writings are in the nine volumes of his sermons. He was canonized in 1881 and proclaimed a Doctor of the Church by Pope John XXIII in 1959.
---

July 20th- St. Jerome Emilliani (Confessor)
ST. JEROME EMILIANI was a member of one of the patrician families of Venice, and, like many other Saints, in early life a soldier. He was appointed governor of a fortress among the mountains of Treviso, and whilst bravely defending his post, was made prisoner by the enemy. In the misery of his dungeon he invoked the great Mother of God, and promised, if she would set him free, to lead a new and a better life. Our Lady appeared, broke his fetters, and led him forth through the midst of his enemies. At Treviso he hung up his chains at her altar, dedicated himself to her service, and on reaching his home at Venice devoted himself to a life of active charity. His special love was for the deserted orphan children whom, in the times of the plague and famine, he found wandering in the streets. He took them home, clothed and fed them, and taught them the Christian truths. From Venice he passed to Padua and Verona, and in a few years had founded orphanages through Northern Italy. Some pious clerics and laymen, who had been his fellow-workers, fixed their abode in one of these establishments, and devoted themselves to the cause of education. The Saint drew up for them a rule of life and thus was founded the Congregation, which still exists, of the Clerks Regular of Somascha. St. Jerome died February 8, 1537, of an illness which he had caught in visiting the sick.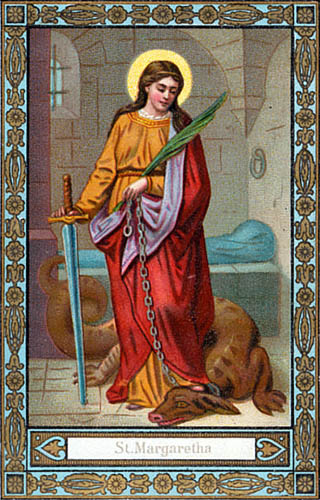 July 20th- St. Margaret (Virgin, Martyr)
ACCORDING to the ancient Martyrologies, St. Margaret suffered at Antioch in Pisidia, in the last general persecution. She is said to have been instructed in the Faith by a Christian nurse, to have been persecuted by her own father, a pagan priest, and, after many torments, to have gloriously finished her martyrdom by the sword. From the East, her veneration was exceedingly propagated in England, France, and Germany, in the eleventh century, during the holy wars. Her body is now kept at Monte-Fiascone in Tuscany.
---

July 19th- St. Vincent de Paul (Confessor)
ST. VINCENT was born in 1576. In after-years, when adviser of the queen and oracle of the Church in France, he loved to recount how, in his youth, he had guarded his father's pigs. Soon after his ordination he was captured by corsairs, and carried into Barbary. He converted his renegade master, and escaped with him to France. Appointed chaplain-general of the galleys of France, his tender charity brought hope into those prisons where hitherto despair had reigned. A mother mourned her imprisoned son. Vincent put on his chains and took his place at the oar, and gave him to his mother. His charity embraced the poor, young and old, provinces desolated by civil war, Christians enslaved by the infidel. The poor man, ignorant and degraded, was to him the image of Him Who became as "a leper and no man." "Turn the medal," he said, "and you then will see Jesus Christ." He went through the streets of Paris at night, seeking the children who were left there to die. Once robbers rushed upon him, thinking he carried a treasure, but when he opened his cloak, they recognized him and his burden, and fell at his feet. Not only was St. Vincent the saviour of the poor, but also of the rich, for he taught them to do works of mercy. When the work for the foundlings was in danger of failing from want of funds, he assembled the ladies of the Association of Charity. He bade his most fervent daughters be present to give the spur to the others. Then he said, "Compassion and charity have made you adopt these little creatures as your children. You have been their mothers according to grace, when their own mothers abandoned them. Cease to be their mothers, that you may become their judges; their life and death are in your hands. I shall now take your votes: it is time to pronounce sentence" The tears of the assembly were his only answer, and the work was continued. The Society of St. Vincent, the Priests of the Mission, and 25,000 Sisters of Charity still comfort the afflicted with the charity of St. Vincent of Paul. He died in 1660.
---

July 18th- St. Camillus of Lellis (Confessor)
THE early years of Camillus gave no sign of sanctity. At the age of nineteen he took service with his father, an Italian noble, against the Turks, and after four years' hard campaigning found himself, through his violent temper, reckless habits, and inveterate passion for gambling, a discharged soldier, and in such straitened circumstances that he was obliged to work as a laborer on a Capuchin convent which was then building. A few words from a Capuchin friar brought about his conversion, and he resolved to become a religious. Thrice he entered the Capuchin novitiate, but each time an obstinate wound in his leg forced him to leave. He repaired to Rome for medical treatment, and there took St. Philip as his confessor and entered the hospital of St. Giacomo, of which he became in time the superintendent. The carelessness of the paid chaplains and nurses towards the suffering patients now inspired him with the thought of founding a congregation to minister to their wants. With this end he was ordained priest, and in 1586 his community of the Servants of the Sick was confirmed by the Pope. Its usefulness was soon felt, not only in hospitals, but in private houses. Summoned at every hour of the day and night, the devotion of Camillus never grew cold. With a woman's tenderness he attended to the needs of his patients. He wept with them, consoled them, and prayed with them. He knew miraculously the state of their souls; and St. Philip saw angels whispering to two Servants of the Sick who were consoling a dying person. One day a sick man said to the Saint, "Father, may I beg you to make up my bed? it is very hard." Camillus replied, "God forgive you, brother! You beg me! Don't you know yet that you are to command me, for I am your servant and slave." "Would to God," he would cry, "that in the hour of my death one sigh or one blessing of these poor creatures might fall upon me!" His prayer was heard. He was granted the same consolations in his last hour which he had so often procured for others. In the year 1614 he died with the full use of his faculties, after two weeks' saintly preparation, as the priest was reciting the words of the ritual, "May Jesus Christ appear to thee with a mild and joyful countenance!"
---

July 17th- St. Alexius (Confessor)
ST. ALEXIUS was the only son of parents pre-eminent among the Roman nobles for virtue, birth, and wealth. On his wedding-night, by God's special inspiration, he secretly quitted Rome, and journeying to Edessa, in the far East, gave away all that he had brought with him, content thenceforth to live on alms at the gate of Our Lady's church in that city. It came to pass that the servants of St. Alexius, whom his father sent in search of him, arrived at Edessa, and seeing him among the poor at the gate of Our Lady's church, gave him an alms, not recognizing him. Whereupon the man of God, rejoicing, said, "I thank thee, O Lord, Who hast called me and granted that I should receive for Thy name's sake an alms from my own slaves. Deign to fulfil in me the work Thou hast begun." After seventeen years, when his sanctity was miraculously manifested by the Blessed Virgin's image, he once more sought obscurity by flight. On his way to Tarsus contrary winds drove his ship to Rome. There no one recognized in the wan and tattered mendicant the heir of Rome's noblest house; not even his sorrowing parents, who had vainly sent throughout the world in search of him. From his father's charity he begged a mean corner of his palace as a shelter, and the leavings of his table as food. Thus he spent seventeen years, bearing patiently the mockery and ill-usage of his own slaves, and witnessing daily the inconsolable grief of his spouse and parents. At last, when death had ended this cruel martyrdom, they learned too late, from a writing in his own hand, who it was that they had unknowingly sheltered. God bore testimony to His servant's sanctity by many miracles. He died early in the fifth century.
---
July 16th- Our Blessed Lady of Mount Carmel
To-day the whole Latin Church joins with the Friars of the Blessed virgin of Mount Carmel in celebrating the munificence of the Mother of God towards this Order which is dedicated to her. The origin of this illustrious brotherhood which has given for many saints to the Church, is well known. A little while before the year 1185, a priest of Calabria having ad a revelation of the prophet Elias, ascended Mount Carmel and began to restore one of the four ancient monasteries which he found there, and of which only the foundations remained. The new institution prospered, and although the latest comer, it was able to graft itself successfully upon the great tradition, already centuries old, of the monastic life which Oriental cenobites and Benedictine monks had let on Mount Carmel. Albert, Patriarch of Jerusalem, gave certain rules of conduct to those hermits who were living at that time under their superior Brocardo, rules which subsequently were approved, together with the new foundation, by Honorius III and Gregory IX.
In the Thirteenth Century Innocent IV approved the rule under the generalship of Simon Stock. On July 16,1251, the Carmelite habit was placed in his hands by the Blessed Virgin. It was blessed by Pope and may privileges attached to it, not only for member of Order, but for all those who enter the Confraternity of Our Lady of Mount Carmel and wear the scapular. The feast of Our Lady of Mount Carmel was inserted into the Calendar under Benedict XIII in 1726.
---
July 15th- St. Henry (Emperor of Germany, Confessor)
HENRY, Duke of Bavaria, saw in a vision his guardian, St. Wolfgang, pointing to the words "after six." This moved him to prepare for death, and for six years he continued to watch and pray, when, at the end of the sixth year, he found the warning verified in his election as emperor. Thus trained in the fear of God, he ascended the throne with but one thought—to reign for His greater glory. The pagan Slavs were then despoiling the empire. Henry attacked them with a small force; but angels and Saints were seen leading his troops, and the heathen fled in despair. Poland and Bohemia, Moravia and Burgundy, were in turn annexed to his kingdom, Pannonia and Hungary won to the Church. With the Faith secured in Germany, Henry passed into Italy, drove out the Antipope Gregory, brought Benedict VIII. back to Rome, and was crowned in St. Peter's by that Pontiff, in 1014. It was Henry's custom, on arriving in any town, to spend his first night in watching in some church dedicated to our blessed Lady. As he was thus praying in St. Mary Major's, the first night of his arrival in Rome, he "saw the Sovereign and Eternal Priest Christ Jesus" enter to say Mass. Sts. Laurence and Vincent assisted as deacon and sub-deacon. Saints innumerable filled the church, and angels sang in the choir. After the Gospel, an angel was sent by Our Lady to give Henry the book to kiss. Touching him lightly on the thigh, as the angel did to Jacob, he said, "Accept this sign of God's love for your chastity and justice;" and from that time the emperor always was lame. Like holy David, Henry employed the fruits of his conquests in the service of the temple. The forests and mines of the empire, the best that his treasury could produce, were consecrated to the sanctuary. Stately cathedrals, noble monasteries, churches innumerable, enlightened and sanctified the once heathen lands. In 1022 Henry lay on his bed of death. He gave back to her parents his wife, St. Cunegunda, "a virgin still, as a virgin he had received her from Christ," and surrendered his own pure soul to God.
---

July 14th- St. Bonaventure (Confessor, Bishop, Doctor of the Church)
ST. EPHREM is the light and glory of the Syriac Church. A mere youth, he entered on the religious life at Nisibis, his native place. Long years of retirement taught him the science of the Saints, and then God called him to Edessa, there to teach what he had learned so well. He defended the Faith against heresies, in books which have made him known as the Prophet of the Syrians. Crowds hung upon his words. Tears used to stop his voice when he preached. He trembled and made his hearers tremble at the thought of God's judgments; but he found in compunction and humility the way to peace, and he rested with unshaken confidence in the mercy of our blessed Lord. "I am setting out," he says, speaking of his own death, "I am setting out on a journey hard and dangerous. Thee, O Son of God, I have taken for my Viaticum. When I am hungry, I will feed on Thee. The infernal fire will not venture near me, for it cannot bear the fragrance of Thy Body and Thy Blood." His hymns won the hearts of the people, drove out the hymns of the Gnostic heretics, and gained for him the title which he bears in the Syriac Liturgy to this day—"the Harp of the Holy Ghost." Passionate as he was by nature, from the time he entered religion no one ever saw him angry. Abounding in labors till the last, he toiled for the suffering poor at Edessa in the famine of 378, and there lay down to die in extreme old age. What was the secret of success so various and so complete? Humility, which made him distrust himself and trust God. Till his death, he wept for the slight sins committed in the thoughtlessness of boyhood. He refused the dignity of the priesthood. "I," he told St. Basil, whom he went to see at the bidding of the Holy Spirit, "I am that Ephrem who has wandered from the path of heaven." Then bursting into tears, he cried out, "O my father, have pity on a sinful wretch, and lead me on the narrow way."
---
July 13th- St. Eugenius (Bishop)
THE episcopal see of Carthage had remained vacant twenty-four years, when, in 481, Huneric permitted the Catholics on certain conditions to choose one who should fill it. The people, impatient to enjoy the comfort of a pastor, pitched upon Eugenius, a citizen of Carthage, eminent for his learning, zeal, piety, and prudence. His charities to the distressed were excessive, and he refused himself everything that he might give all to the poor. His virtue gained him the respect and esteem even of the, Arians; but at length envy and blind zeal got the ascendant in their breasts, and the king sent him an order never to sit on the episcopal throne, preach to the people, or admit into his chapel any Vandals, among whom several were Catholics. The Saint boldly answered that the laws of God commanded him not to shut the door of His church to any that desired to serve Him in it. Huneric, enraged at this answer, persecuted the Catholics in various ways. Many nuns were so cruelly tortured that they died on the rack. Great numbers of bishops, priests, deacons, and eminent Catholic laymen were banished to a desert filled with scorpions and venomous serpents. The people followed their bishops and priests with lighted tapers in their hands, and mothers carried their little babes in their arms and laid them at the feet of the confessors, all crying out with tears, "Going yourselves to your crowns, to whom do you leave us? Who will baptize our children? Who will impart to us the benefit of penance, and discharge us from the bonds of sin by the favor of reconciliation and pardon? Who will bury us with solemn supplications at our death? By whom will the Divine Sacrifice be made? " The Bishop Eugenius was spared in the first storm, but afterwards was carried into the uninhabited desert country in the province of Tripolis, and committed to the guard of Antony, an inhuman Arian bishop, who treated him with the utmost barbarity. Gontamund, who succeeded Huneric, recalled our Saint to Carthage, opened the Catholic churches, and allowed all the exiled priests to return. After reigning twelve years, Gontamund died, and his brother Thrasimund was called to the crown. Under this prince St. Eugenius was again banished, and died in exile, on the 13th of July, 505, in a monastery which he built and governed, near Albi.
---

July 12th- St. John Gualbert (Abbot)
ST. JOHN GUALBERT was born at Florence, A. D. 999. Following the profession of arms at that troubled period, he became involved in a blood-feud with a near relative. One Good Friday, as he was riding into Florence accompanied by armed men, he encountered his enemy in a place where neither could avoid the other. John would have slain him; but his adversary, who was totally unprepared to fight, fell upon his knees with his arms stretched out in the form of a cross, and implored him, for the sake of Our Lord's holy Passion, to spare his life. St. John said to his enemy, "I cannot refuse what you ask in Christ's name. I grant you your life, and I give you my friendship. Pray that God may forgive me my sin." Grace triumphed. A humble and changed man, he entered the Church of St. Miniato, which was near; and whilst he prayed, the figure of our crucified Lord, before which he was kneeling, bowed its head toward him as if to ratify his pardon. Abandoning the world, he gave himself up to prayer and penance in the Benedictine Order. Later he was led to found the congregation called of Vallombrosa, from the shady valley a few miles from Florence, where he established his first monastery. Once the enemies of the Saint came to his convent of St. Salvi, plundered it, and set fire to it, and having treated the monks with ignominy, beat them and wounded them. St. John rejoiced. "Now," he said, "you are true monks. Would that I myself had had the honor of being with you when the soldiers came, that I might have had a share in the glory of your crowns! " He fought manfully against simony, and in many ways promoted the interest of the Faith in Italy. After a life of great austerity, he died whilst the angels were singing round his bed, July 11, 1073.